radically-low-priced healthy meals that reduce food waste
Comfort Kitchen
Sustainable Business Concept
the project
With two other students in my MBA program at California College of the Arts, I designed a social impact venture to address food access in food deserts (specifically West Oakland) and food waste.

Keep scrolling for the full story, including the business model and the findings from our micropilot designed to test our assumptions.
challenge
West Oakland is a prime example of a food desert, with absurdly fewer grocery stores than wealthier areas nearby. We wanted to address this barrier to healthy eating, which has significant effects on individual and community health.
target user
Based on our initial secondary research, we identified our target users as West Oakland residents with little time to shop for and prepare healthy meals.

competitive analysis
Our competitive analysis highlighted an opportunity for affordable and convenient food, which we were excited to fill with a healthy, sustainable option.
solution
Our solution is a food delivery truck stationed at local public transit hubs at commute hours with one menu option per day (and discounted purchase options for refrigerated leftovers from yesterday) with the primary goal of providing affordable food and secondary goal of reducing food waste.
 
Comfort Kitchen creates access to healthy, nutritious, radically low-cost meals for families experiencing food insecurity. We do this through serving one menu item per day prepared at a centralized kitchen and distributed via cold storage trucks that parked at high-traffic locations for convenient access. Meals are stored and sold cold to ensure freshness and are easily freezable, with bulk discounts to encourage families to buy large quantities and save on time and money.
Beyond bringing access to healthy food to West Oakland in the immediate future, we see Comfort Kitchen growing into an alternative food distribution system that is not reliant on unsustainably-subsidized agriculture or gentrification-informed distribution systems but rather brings diverted waste food to people where they are and where they need it most.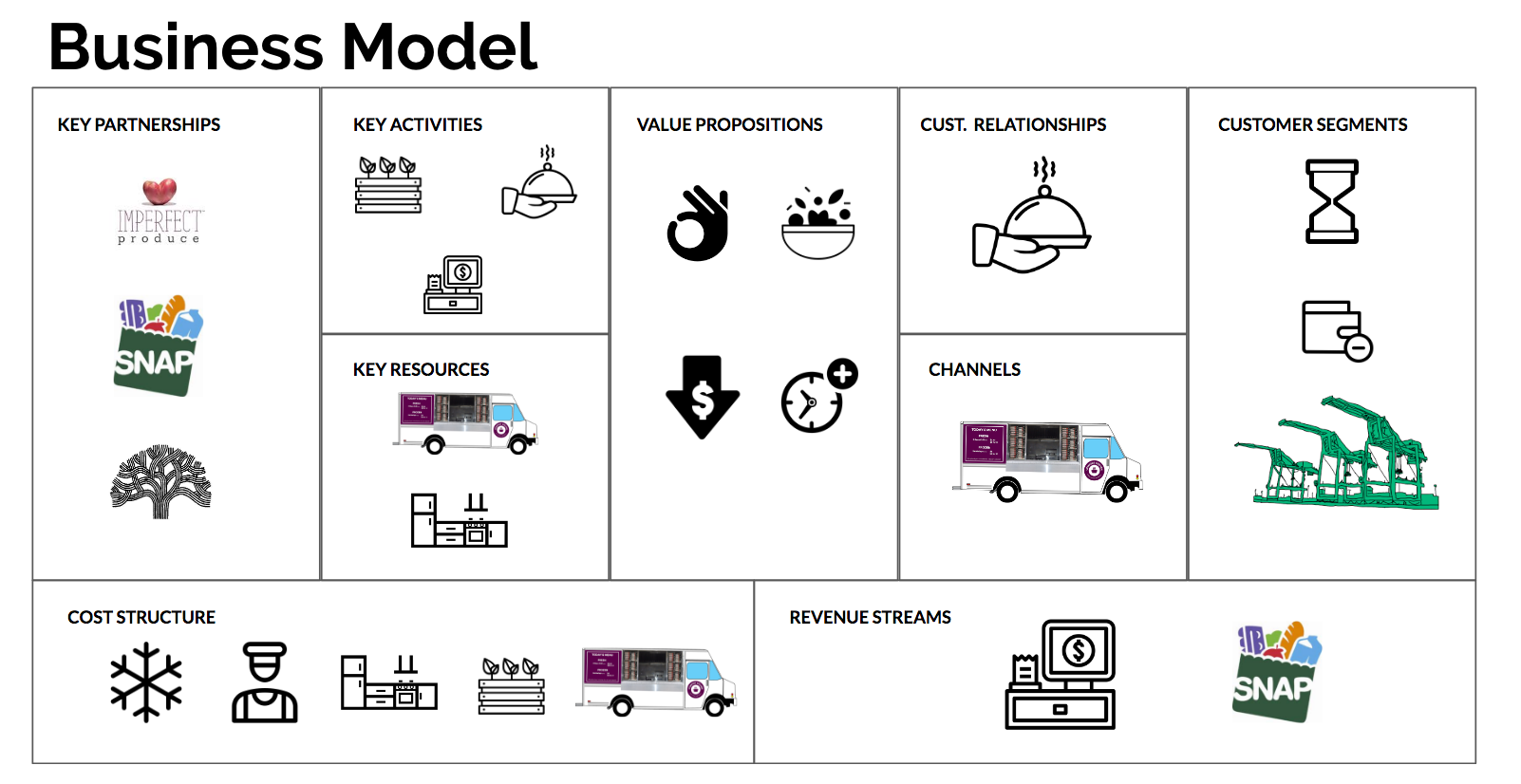 business model
Our business model was based first on supplying what we termed "radically low-cost" meals. Since research shows that providing access to fresh fruits and vegetables — as we'd seen in many popularized food desert solutions — doesn't actually improve community health outcomes, we prioritized convenience in our model, with premade hot meals (rather than ingredients that took more time to prepare) supplied at public transit hubs that we speculated our users would be passing through anyway.
The model centered around a delivery truck that would be parked in these high-traffic areas, though food would be prepared at a commercial kitchen. Both for keeping costs low and for our secondary goal of reducing food waste, we would hope to source ingredients from diverted produce suppliers like Imperfect, and interviewed an Imperfect supplier to learn what this could look like and cost us.
impact
I also learned about new ways of thinking about social/environmental impact business ventures through this project as we were challenged to think through how our intervention would impact the challenge and community in the short and long term.
Through this process of prioritizing the intended impacts of our intervention, we realized that affordability and community impact were more important to us than the direct environmental impact of reducing food waste, which helped us later prioritize the features/services in our launch strategy in implementation plan.
research design / validation
To test the assumptions in our venture plan, we prototyped the service by cooking and distributing free chili in exchange for short interviews at the West Oakland BART station during evening commute hours. Our prototype experiment and interview guide were designed to test affordability (by asking about expected price), menu desirability, effectiveness/convenience of our expected location and desired food format. We decided to white label the service to avoid bias from any branding ideas we had so far, and save other feasibility-related questions/assumptions for other tests.