engaging prospective members
Spark
Reimagined Web Experience
challenge
SparkSF, a local women's philanthropy nonprofit, needed help with their website — the organization's leadership and digital strategy committee worried it was not effectively engaging new and existing members.

I worked with another designer, Stephanie, to research and design a new home page for the organization that was better in line with members' and prospective members' priorities to encourage more people to get involved, starting with an analysis of the existing site from a design perspective and based on interviews and surveys with existing and prospective members.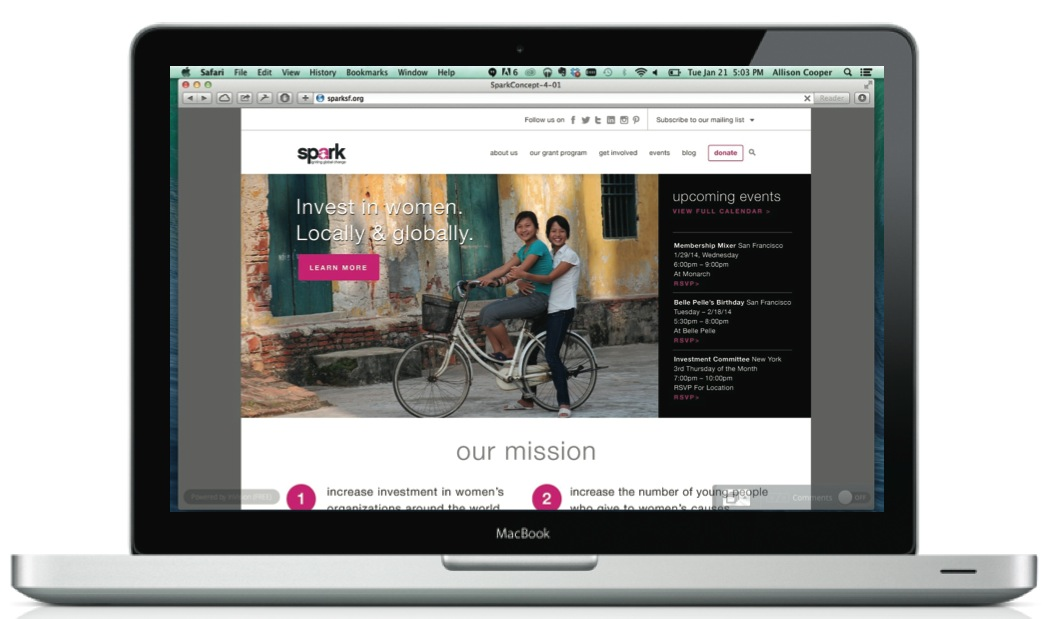 solution
Our final solution — a complete new design spec for the website — prioritized upcoming events, because we found through our research that encouraging event attendance was be the most effective member conversion path for prospective members.
Click here to see our final prototype.
team
I worked with an amazing visual designer, Stephanie, to execute this project for Spark. We also worked closely with their digital strategy committee (pictured) for feedback throughout the process.
next steps
Spark's next steps are to implement the new design with a developer. It will then be interesting to measure the success of our new design using site analytics, specifically to see if the new design achieved our goals of increasing engagement (event signups) and member conversions.
Click here to view our final presentation.