shared streaming, solved
TrainTrax
Stanford Hackathon-Winning App Design
context & challenge
You use Apple Music. Your friends use Spotify. You're all stuck in a car together for the next three hours on the way to Tahoe, and you have the perfect song to add to the road trip playlist. With TrainTrax, you can all add songs to the same playlist without passing the streaming device around or hassling with aux cords — even if you don't use their streaming service.
I was very lucky to meet a couple amazing developers — Austin and Paul — at the start of Stanford's annual student hackathon, who had identified a pain point for sharing music amongst groups of people with different streaming service subscriptions. They wanted to create a way for friends using different music streaming services to be able to add songs to the same shared playlist at a party or on a road trip, and I was happy to join what became the TrainTrax team as the team's designer.
As a design problem, it was interesting to think through the flows of explaining this slightly-abstract concept to users and the logistics of how playlists would be organized. We decided on a concept of "parties" as the groups of users that owned these (streaming-service-agnostic) playlists, with an administrator that could invite more people to listen and add to the shared list.
As an MBA student, I was also very excited by the business potential of this idea, and had a lot of fun thinking through monetization strategies. Even the hackathon itself proved to be a compelling example use case for this service, as attendees complained about the playlist blasting through the night; while we imagine the basic features of this service would be free (with a freemium model for more advanced features), in the future, large-scale events could be facilitated through a paid B2B version of the TrainTrax service as well.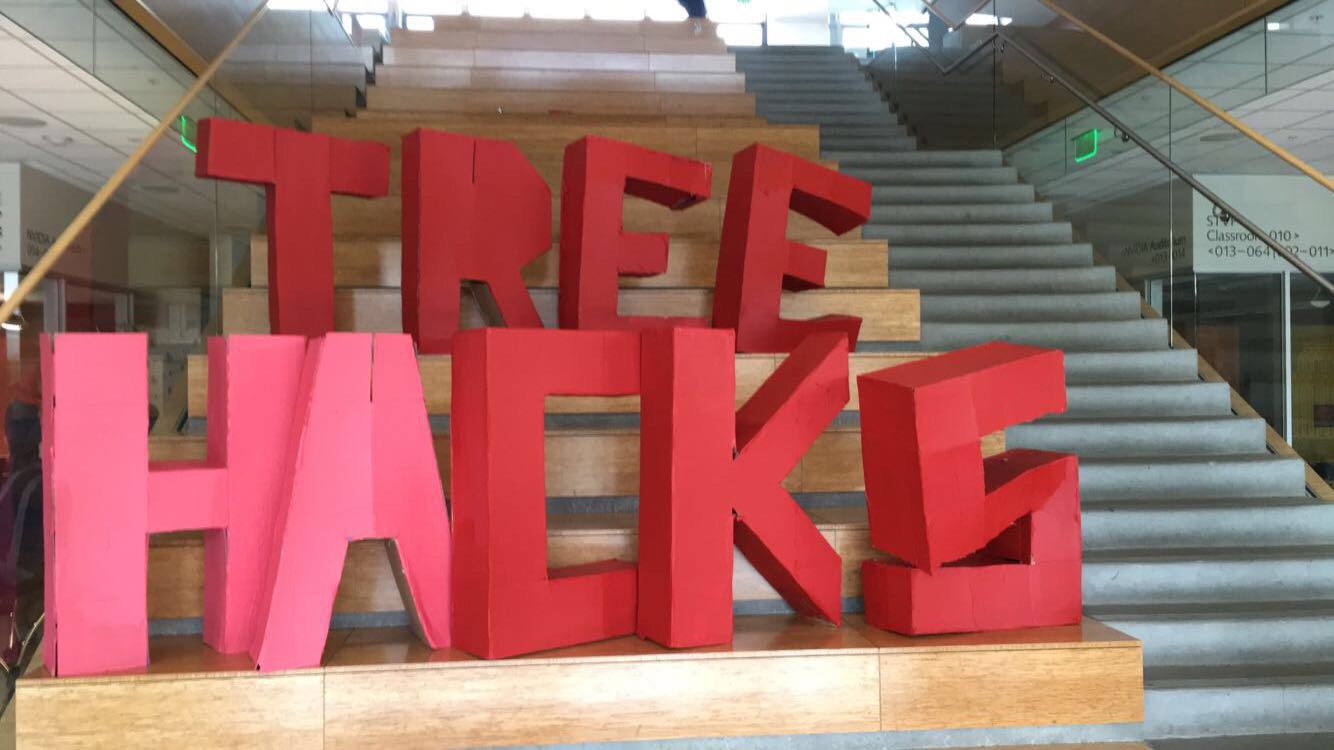 process
In just a 36-hour hackathon, our team of four led by Austin's vision and mad iOS skills and Paul's rock star back-end architecture hacked together a full working prototype. I was also very excited to be on a team with my amazing former coworker Taylor, who did front-end development, learned a crazy amount of Swift on the fly, and even started designing a web app.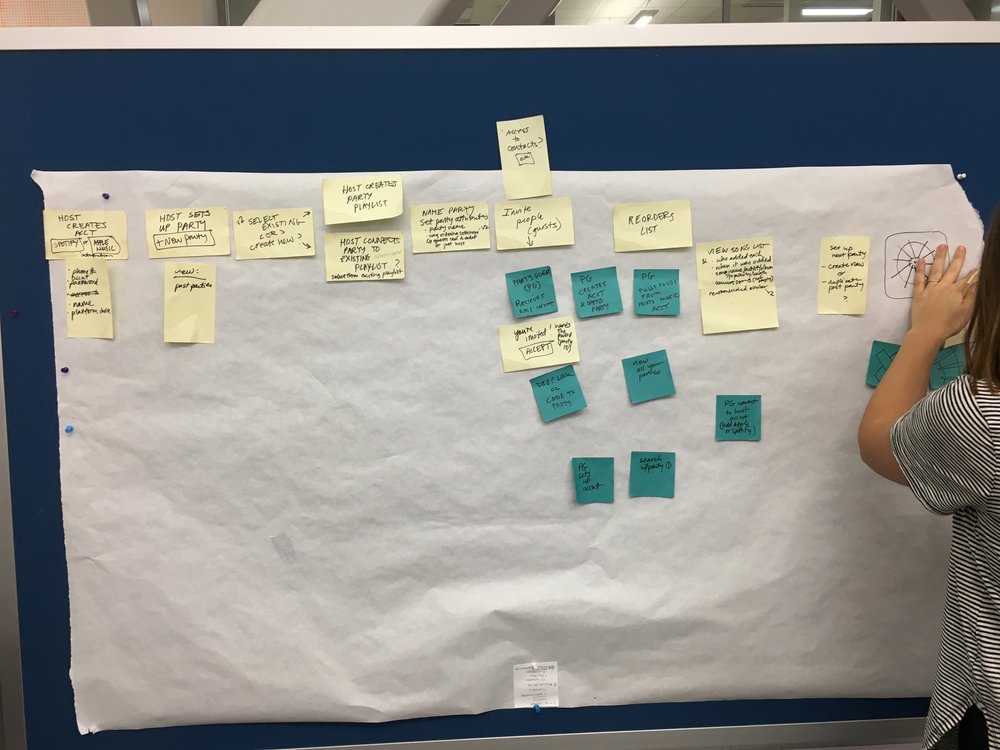 design strategy
I was responsible for the product's visual design, including full UI designs for the iOS app. One of the first things we did once we teamed up was realize we needed to map out user flows; I led the team through a kickoff post-it UX exercise that helped us think through all possible user states and flows.
TEAM
Together, these development wizards figured out the complex Spotify and Apple Music SDKs and amazingly built a functioning app that allows adding songs to a host's playlist, set up on Linode. Plus, it integrated with Button to allow for users to buy songs in the iTunes store — and it even looked pretty slick too!
On the last day, after doing our pitch so many times at the expo that we could have done it in our sleep (which we basically were, after two nights of little/no sleep), we were thrilled to learn we had made it into the top 8 finalists out of over 120 super-impressive projects.
Winners!
This was such a fun special team (L-R: Taylor, Austin, myself, Paul). Brought together by iOS engineer extraordinaire Austin's initial vision, Paul built outstanding back-end/integrations and Taylor built out the front-end web UI. I was responsible for the full UX and visual design, and led the team through an exercise to map out the needed flows together. We were thrilled to win one of the top prizes — Most Polished — as well as two prizes for integrations used.
Click here to see our final clickthrough mockups, as presented at Treehacks.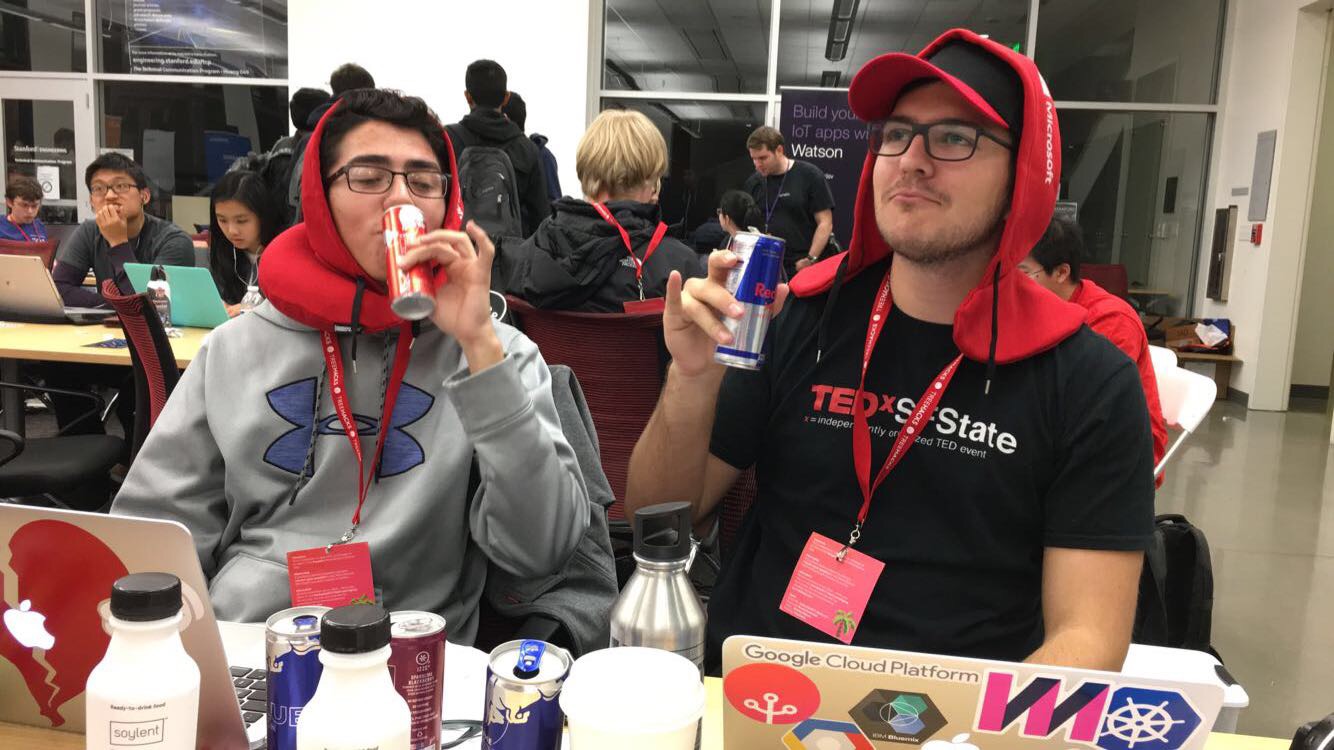 love you long time
At the risk of maximum cheesiness, really truly the highlight of the weekend for me was this amazing team. I made two new awesome friends (and got to know them really well, thanks to lots of silly late-night Red Bulls) and got to reconnect with one of my favorite coworkers. I'm really proud of what we accomplished, and especially that we accomplished it all while laughing and smiling the entire time.